So you got a lot of devices... but that also mean you have a lot of cables to connect! Now what if there was a way that you could charge everything without the constant hassles of plugging in devices, tangled cables and slow charging?

Your answer is right here.
The Univolt Charging Stand is the complete all-in-one solution that will charge your Android or Apple smartphone, smartwatch, and earbuds without the hassles of wired cables!
Charges 3 of your devices at the same time
4x Faster* wireless charging speeds
Apple & Android compatible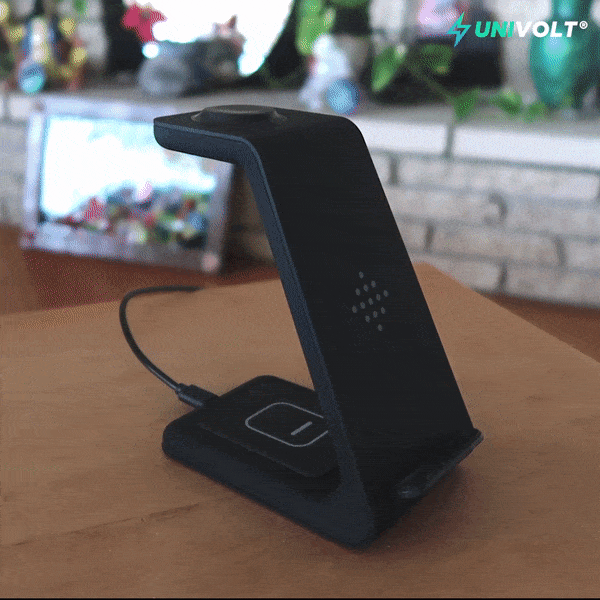 Charges up to 4X Faster.
Univolt is powered by the latest Quick Charge 3.0 technology that is proven to charge all of your compatible devices up to 4x faster* than your average wired cables.That means less time waiting around for a full charge, and more time using your devices when you want.
Takes just 35 minutes to get 80% of battery!*
Univolt is compatible with all Qi-enabled Apple & Android smart devices. 
Whether you've got an iPhone, Samsung, Airpods, or a Galaxy Watch, this charger stand will work for you. Check device compatibility here.
Unlimited Possibilities.
Univolt can charge through most conventional plastic phone cases, and can even charge your smartphone on multiple platforms!
Phone case friendly
Multi-platform charging
Horizontal and vertical support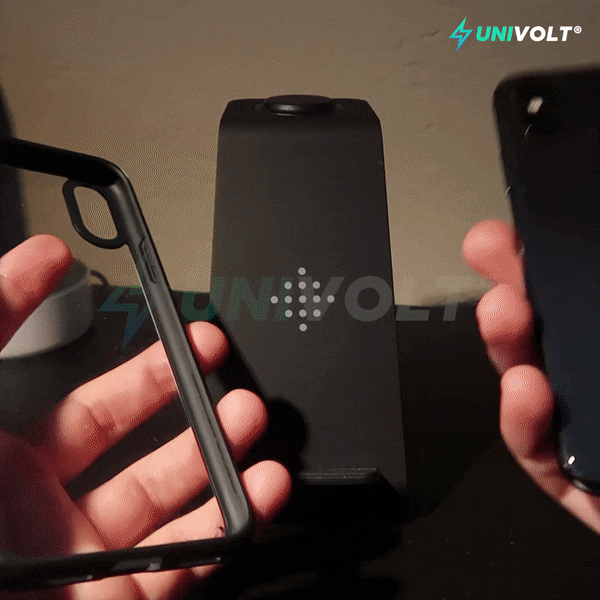 Features & Specs.
 
Case-friendly.
Charges through conventional plastic, silicone, and TPU cases.
Just one cable.
Powered bv a QC 3.0 Type-C adapter.
3-in-1 design.
Charges up to 3 Qi-enabled devices at the same time.
Fast Charging.
Latest Qi 3.0 wireless charging technology.
Total output: 18W
Cooling System.
Intelligent heat-ventilation system for continuously balanced airflow
Safe & Certified.
Qi, FCC, and RoHS certified
30-Day Money Back Guarantee.
If you have any issues regarding your order of a Univolt product, please do not hesitate to contact us at info@univolt.co.
We make it our upmost priority to ensure customers are 100% satisfied with their order and will provide a full refund or free replacement within 30 days of delivery.

Awesome charger
Charger is terrific, charges phone and watch quickly.
Great Service great product
This is a really nice charger. Best of all is the service after the sale. I has a small issue and they handeled it very quick. Great product and really great servive after the sale..A+++++
Much better fulfillment with 2nd order
I ordered last year, and was very happy with the product. I ordered a charger for my wife and it was delivered in days!! Product design is slightly different so we shall see if it holds up like my first order. Very Satisfied!! (Android User)
Very satisfied with it
Tired of having a bunch of cables, very nice stand I can charge my iphone, watch and ipods. how so fast is it? well, hard to say, every night I put my devices and on the morning they are ready to use, I do not know if you are in a hurry how it will perform. If I have the situation I am going to update my review. So far, very satisfied with the purchase. Plus: It looks like an Apple product.
Convenient for Apple device users
They make a quality product and offer options for Apple device users that go beyond what Apple offers or other approved accessory manufacturers. I have an iPhone, Apple Watch and EarPods but it is not convenient to deal with multiple charging devices, cubes, cords and more to keep everything charged.